I recently re-made my backbore reamers. The new reamers cut smoother and faster and the backbores feel real nice. Same as the old ones but "better" :)
My experience indicates that there seems to be a certain cup depth works best with a certain backbore. Lead cups work best with a smaller tighter backbore. Jazz cups work best with a slightly larger backbore. Classical cup on Bb trumpet works best with a medium Bach Style backbore, and C Trumpet usually takes a large backbore.

I mark the backbore size with a number  at the middle of the backbore, and mark the shank size in "reeves sleeve" terms near the bottom of the backbore. #4 and #5 shank sizes are the most common. #4 gives a larger "Gap" than does number #5. 

If there is no number on the shank end, it is a "normal" number 5.
At the top I mark the throat size. If there is no marking it is a 27 throat size.
About sleeves: I have cut a LOT of mouthpieces for sleeves and sleeves can be the ticket for experimenting with "mouthpiece gap". Truth is however that sleeves dont play as good as not sleeved. That is why i just make the whole backbore to the right sleeve size. I have backbore "blanks" that are ready for the backbore reamer and to cut the shank to size. Its actually easier than cutting for sleeves. Only works if you know your sleevs size:)
These are the backbores: 

#3 Backbore

    A smallish Backbore. Efficient and very good response and intonation. Plays great with "lead" cups
.
#4 Backbore

  This is similar to a Purviance backbore that I copied in the 70's. This is my favorite backbore. It works great on Mid_volume Jazz type cups, and also with 3C type cups on Bb trumpet.

#5 Backbore

    This is basically a Bach type "standard" backbore. Works well on 3C and bigger orchestral type cups on Bb trumpet.
5G backbore
feels like bach size but makes for total length of 3.5 instead of "regular" 3.45 total length. More focused.
#6 Backbore

    This is a big backbore modeled after a Tottle 1 (not all tottle 1's were the same:). I really like it for C trumpet and also piccolo. Honestly, the 7 feels better:) to most players on C or Bb, its still good for piccolo though. 
7 backbore
Big and plays great on C and Bb. Like a 24
Cornet Backbore

    I can do it in "long shank" or "short shank" and "Large shank" with the standard taper. Some old horns have unusual tapers, and I dont know about that. However, old Conns from before 1955 DO have the standard rate of taper, but just shorter. Old Olds cornets with the large shank also have the standard rate of taper (Morse).
 I actually make cornet backbores out of t
trumpet backbores
Flugle backbore

    This gets weird. There are four "standard" Flugel shanks. I can do them but they are all different. Most are the standard taper, but with different diameters. I just need to know the shank end diameter.

I always make them to order, not ahead of time.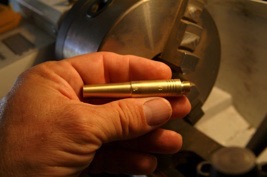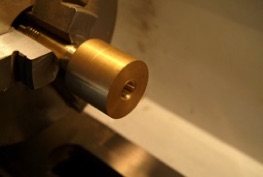 Checking the "gap" or shank size.....